Now Available: After a successful Kickstarter campaign, our first three Tableau playsets, including Twilight Road 🛣, are now available to the public. For more details see NEWS: Tableau Game System - Now Available to All Storytellers!.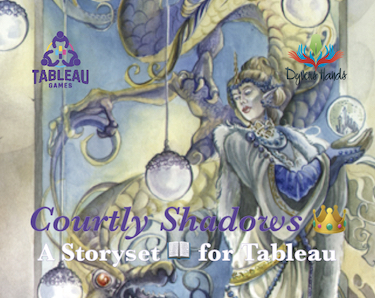 In Courtly Shadows 👑 honor meets deception, whispered secrets, and hidden agendas. A two-page Booklet Storyset 📖 supplement for Tableau: Collaborative Cinematic Storytelling system available through DriveThruRPG & itch.io as Print'N'Play.
Additionally, adaptable for use in other Belonging Outside Belonging​ style storygames to accentuate tales of aristocracy, concealed motives, and duels of nobility.
Leverage these five pivotal Story 📖 Elements in your stories:
Setting: The Court 🏘️: Waltz through an opulent realm of ambition and privilege, where every gesture hides a secret and power ebbs and flows like tides.
Tone: Intrigue 🎶: Witness the intricate ballet of deception and hidden motives, as power players navigate the murky waters of politics and strategy.
Theme: Status 💢: An environment where your worth is determined by lineage, power, and cunning, where every step up the ladder may cost more than it's worth.
Faction: The Watch 🫂: Behind each great court lies an ever-vigilant protector. Stand alongside them as they guard against threats, both overt and concealed.
Genre Beats: At Dawn 🥁: As the first light pierces the horizon, watch as destinies are sealed, and the fate of the courtly realm hangs in the balance.
In Courtly Shadows 👑, allegiances shift, secrets unravel, and the dawn may herald victory or despair. How will you shape the fate of your realm?
Available from…
Courtly Shadows 👑
Tableau: Courtly 👑 Shadows is available as a Booklet Storyset 📖 from:
Tableau Booklet Storysets 📖
Tableau Booklet Storysets 📖 ​supplement Tableau stories with additional rules and story Elements, but you'll require a Tableau Playset or the Tableau Core Rules to play. Storysets 📖​ also are easy to incorporate into most Belonging Outside Belonging​ style storygames, and are adaptable for use with many other styles of tabletop role-playing games.​​
Storysets 📖 don't possess the same flexibility as a Tableau card-based Playset 🎞. Instead, they are designed for a similar style of play using small, card-sized Booklets easily printed on US Letter 8½''x11'' paper. To utilize a Storysets 📖​ just unfold the Booklet to a particular Story 📖 Element page and have a storyteller Take Up 🫰 that Booklet for control that Element just like they would a card with a Story 📖 Element.
Assembly: Print booklet, single-sided. Fold long way (11'') with text out, then unfold. Fold short way (8-½'') with text out, then unfold. Fold short sides ¼ and ¾ inward with text in. Cut center guide, stopping at the ¼ & ¾ folds—don't cut to page's end. Refold as per image. Ensure cover is on front. Tighten creases.
Credits
Courtly Shadows 👑 — A Booklet Storyset 📖 for Tableau Games was written & designed by Christopher Allen.
©2023 by Dyvers Hands Productions, LLC. — All Rights Reserved (no license is granted for redistribution or derivation without permission). Art "Castle Marrach" & "Queen Vivienne" by Stephanie Law.
Tableau Games™, Dyvers Hands™, and Castle Marrach™ are trademarks of Dyvers Hands Productions LLC.
Other Tableau Storysets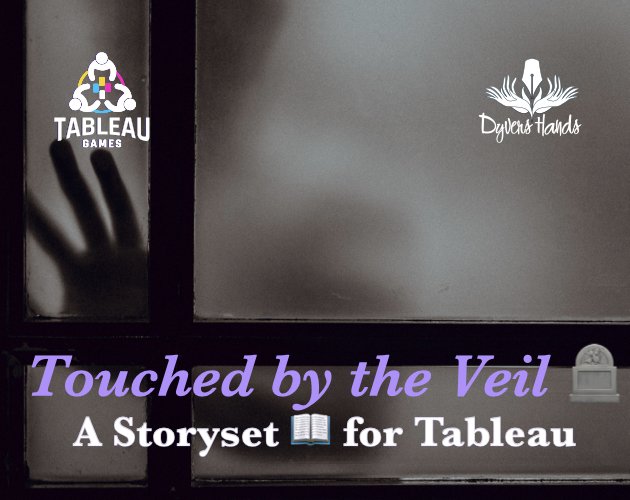 Mailing List
To stay updated on the latest news, including announcements about future products and Kickstarter campaigns, sign up for our Tableau Games Announcements Mailing List. You'll be the first to know about exciting developments, promotions, and more.