News: Unlock your storytelling with the 'Print-N-Fold' Tableau Core ꩜ Rules Booklet! The essential rules available in PDF at 'Name Your Own Price'! More details here!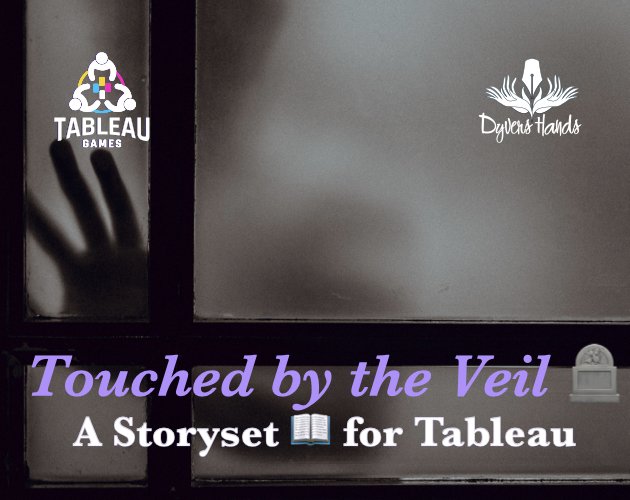 Touched by the Veil 🪦, where the unsolved intertwines with the unseen, setting hearts racing and souls searching. A two-page Booklet Storysets 📖 supplement for Tableau: Collaborative Cinematic Storytelling, and adaptable for use in other 'belonging outside belonging' style storygames , this Storyset 📖 daccentuates tales of lurking truths, and the irresistible dance between the known and the unknown.
Leverage these quintessential Halloween Story 📖 Elements in your stories:
Setting The Haunted 🏘️: Traverse places where the barrier between worlds is gossamer-thin. Here, every echo holds a story, every shadow might just have a soul.
Tone: Suspense 🎶: Walk the tightrope of anticipation, where every heartbeat might herald a storm, and the unseen and the unsaid loom just out of reach.
Theme Obsession 💢: Delve into fervent passions that defy logic.. When the heart's deepest desires blur with the haunting call of the beyond, what path will you choose?
Genre Beat Mystery 🥁: Embark on a journey to unravel puzzles shrouded in layers of deception. But remember, every clue uncovered may come at a price.
Faction: Wandering Souls 🫂: Encounter the entities of the in-between, those who whisper tales from the yonder, some seeking closure, some yearning for justice, and some guarding age-old truths.
In Touched by the Veil 🪦 every decision reverberates with suspense, every passion becomes a binding chain, and every shadow might just hold the key to a mystery unsolved. As the curtain lifts on these tales, how will you navigate the intricate tapestry of intrigue and emotion?
Available from…
Touched by the Veil 🪦
Tableau: Touched by the Veil 🪦 is available as a Booklet Storyset 🍽 from:
Tableau Storyset 📖 Booklets
Tableau Booklet Storysets 📖 ​supplement _Tableau stories with additional rules and story Elements, but you'll require a Tableau Playset or the Tableau Core Rules to play. Storysets 📖​ also are easy to incorporate into most Belonging Outside Belonging​ style storygames, and are adaptable for use with many other styles of tabletop role-playing games.​​
Storysets 📖​ don't possess the same flexibility as a Tableau card-based Playset 🎞. Instead, they are designed for a similar style of play using small, card-sized Booklets easily printed on US Letter 8½''x11'' paper. To utilize a Storyset 📖​ just unfold the Booklet to a particular Story 📖 Element page and have a storyteller Take Up 🫰 that Booklet for control that Element just like they would a card with a Story 📖 Element.
Assembly: Print booklet, single-sided. Fold long way (11'') with text out, then unfold. Fold short way (8-½'') with text out, then unfold. Fold short sides ¼ and ¾ inward with text in. Cut center guide, stopping at the ¼ & ¾ folds—don't cut to page's end. Refold as per image. Ensure cover is on front. Tighten creases.
Credits
Touched by the Veil 🪦 — A Booklet Storyset 📖 for Tableau Games was written & designed by Christopher Allen.
©2023 by Dyvers Hands Productions, LLC. — All Rights Reserved (no license is granted for redistribution or derivation without permission). More info & image credits at DyversHands.com/Tableau.
Tableau Games™ and Dyvers Hands™ are trademarks of Dyvers Hands Productions LLC.
Other Tableau Storysets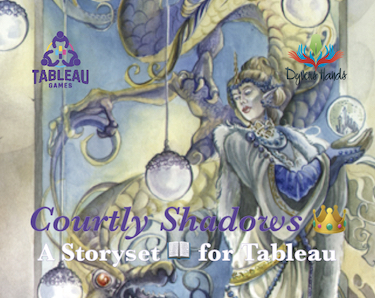 Mailing List
To stay updated on the latest news, including announcements about future products and Kickstarter campaigns, sign up for our Tableau Games Announcements Mailing List. You'll be the first to know about exciting developments, promotions, and more.