Now Available: After a successful Kickstarter campaign, our first three Tableau playsets, including Twilight Road 🛣, are now available to the public. For more details see NEWS: Tableau Game System - Now Available to All Storytellers!.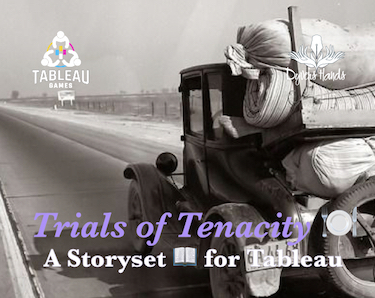 Endure a world reshaped by calamity in Trials of Tenacity 🍽️, a three-page Booklet Storyset 📖 supplement for Tableau: Collaborative Cinematic Storytelling.
Also adaptable for use in other 'belonging outside belonging' style storygames , this Storyset 📖 delves into the struggles and hopes of a desolate landscape where the embers of civilization flicker.
Leverage these eight pivotal Story 📖 Elements in your stories:
Setting Post-Apocalyptic 🏘️: Traverse a scarred world where past civilization's memories are mere shadows in ruins, each breath a testament to survivors' resilience amidst desolation.
Genre Beat Survival 🥁: Dance with danger, feel the raw rhythms of heartbeats in nature's fury, every beat revealing life's fragility and profound insights on the edge of peril.
Theme Scarcity 💢: With abundance a distant memory, dwindling resources become desperate signposts, forcing souls to rethink value and face dire choices.
Drama Resources 🎭: Amid a fragile balance of need and desire, shifting resources dictate destinies, with individuals balancing between bounty and lack.
Genre Beat Embers of Hope 🥁: In despair's thick shadow, we chase faint glimmers of hope, whispers of stories longing to rekindle and tales of resurgence.
Theme Decay 💢: As time tightens its grip, structures fall and nature overpowers, illustrating the ceaseless march of decay and the eerie beauty in nature's reclaim.
Tone: Grit & Grace 🎶: Amidst life's adversities, enduring spirit and poised resilience craft a hopeful ballad, each challenge a prelude to brighter moments.
Faction: Stewards of Progress 🫂: At the crossroads of past and future, these guardians protect knowledge, balancing the urgency of innovation with time-tested wisdom.
In Trials of Tenacity 🍽️, resilience battles against time's ravages, hope dances on the knife's edge, and tales of survival intertwine with legends reborn. What stories will you weave from the remnants of a world once lost?
Available from…
Trials of Tenacity 👑
Tableau: Trials of Tenacity 👑 is available as a Boolet Storyset 🍽 from:
Tableau Booklet Storysets 📖
Tableau Booklet Storysets 📖 ​supplement Tableau stories with additional rules and story Elements, but you'll require a Tableau Playset or the Tableau Core Rules to play. Storysets 📖​ also are easy to incorporate into most Belonging Outside Belonging​ style storygames, and are adaptable for use with many other styles of tabletop role-playing games.​​
Storysets 📖​ don't possess the same flexibility as a Tableau card-based Playset 🎞. Instead, they are designed for a similar style of play using small, card-sized Booklets easily printed on US Letter 8½''x11'' paper. To utilize a Storyset 📖​ just unfold the Booklet to a particular Story 📖 Element page and have a storyteller Take Up 🫰 that Booklet for control that Element just like they would a card with a Story 📖 Element.
Assembly: Print booklet, single-sided. Fold long way (11'') with text out, then unfold. Fold short way (8-½'') with text out, then unfold. Fold short sides ¼ and ¾ inward with text in. Cut center guide, stopping at the ¼ & ¾ folds—don't cut to page's end. Refold as per image. Ensure cover is on front. Tighten creases.
Credits
Trials of Tenacity 👑 — A Booklet Storyset 📖 for Tableau Games was written & designed by Christopher Allen.
©2023 by Dyvers Hands Productions, LLC. — All Rights Reserved (no license is granted for redistribution or derivation without permission). More info & image credits at DyversHands.com/Tableau.
Tableau Games™, Dyvers Hands™, and Castle Marrach™ are trademarks of Dyvers Hands Productions LLC.
Other Tableau Storysets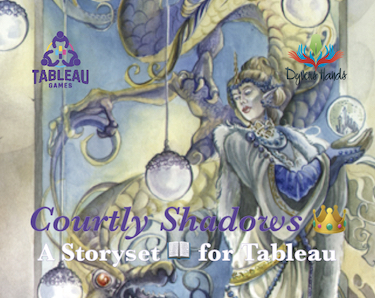 Mailing List
To stay updated on the latest news, including announcements about future products and Kickstarter campaigns, sign up for our Tableau Games Announcements Mailing List. You'll be the first to know about exciting developments, promotions, and more.